This Hotpoint tumble dryer is devoted to caring for the clothes you love. The dryer has a 9kg drum capacity which is ideal for medium sized households and also includes programmes which are able to prolong the vibrancy and life in your clothes. The machine has a A++ energy rating which will also allow you to save money in the long run.
Hotpoint have developed innovative Heat Pump Technology which allows moisture to be removed from your clothes and will then be recycled back through the machine, giving you perfectly dry clothes. This advancement in technology provides a more economical approach to tumble drying, because it allows you save on energy consumption by 50%.
Heat Pump Technology
Heat Pump Technology uses the same process as condenser dryers, they use hot air to remove moisture from clothes whilst also circulate the air multiple times which reheats is. Tumble dryers which have heat pump technology do not reach the same temperatures that other dyers may. This ensures efficient performance and gentler drying of fabrics.
Key Features
Anti Allergy : The Anti Allergy function removes 99.9% of dust mites to help protect families with sensitive skin and allergies. This is done by combining high temperatures and extra rinses to neutralise and remove allergens. This is endorsed by the Independent Institute British Allergy Foundation.
Self Cleaning Condenser : This dryer contains a smaller and lighter condenser which can be cleaned easily and quicker than ever before.
Pre Ironing Cycle : If you choose the Pre-Iron cycle to reduce creases in your clothes. The air inside is warmed up to relax fibres in your clothing without damaging your clothing. This cycle will allow you to enjoy the rest of your day instead of worrying about the ironing.
Refresh Programme : A 20 minute cooling programme which will dry and refresh clothes which is the perfect alternative for washing clothes that you have only worn once or that you have recently unpacked from storage.
Cuddly Toy Cycle : This cycle allows you to dry cuddly toys delicately and with ease. Low temperatures combined with a mechanical action can help to maintain the look and shine of the fur and cuddly fabrics on your children's favourite toys. Active Care : Active Care technology reduces your fabrics from wearing out by 40% by minimising tension on your laundry which means you will be able to enjoy the clothes for a lot longer.
Preview of Programmes
Adjustable dryness levels
Anti Allergy
Baby Cycle
Bed and Bath
Duvet
Crease care
Jeans
Silk
Synthetics
Colour Care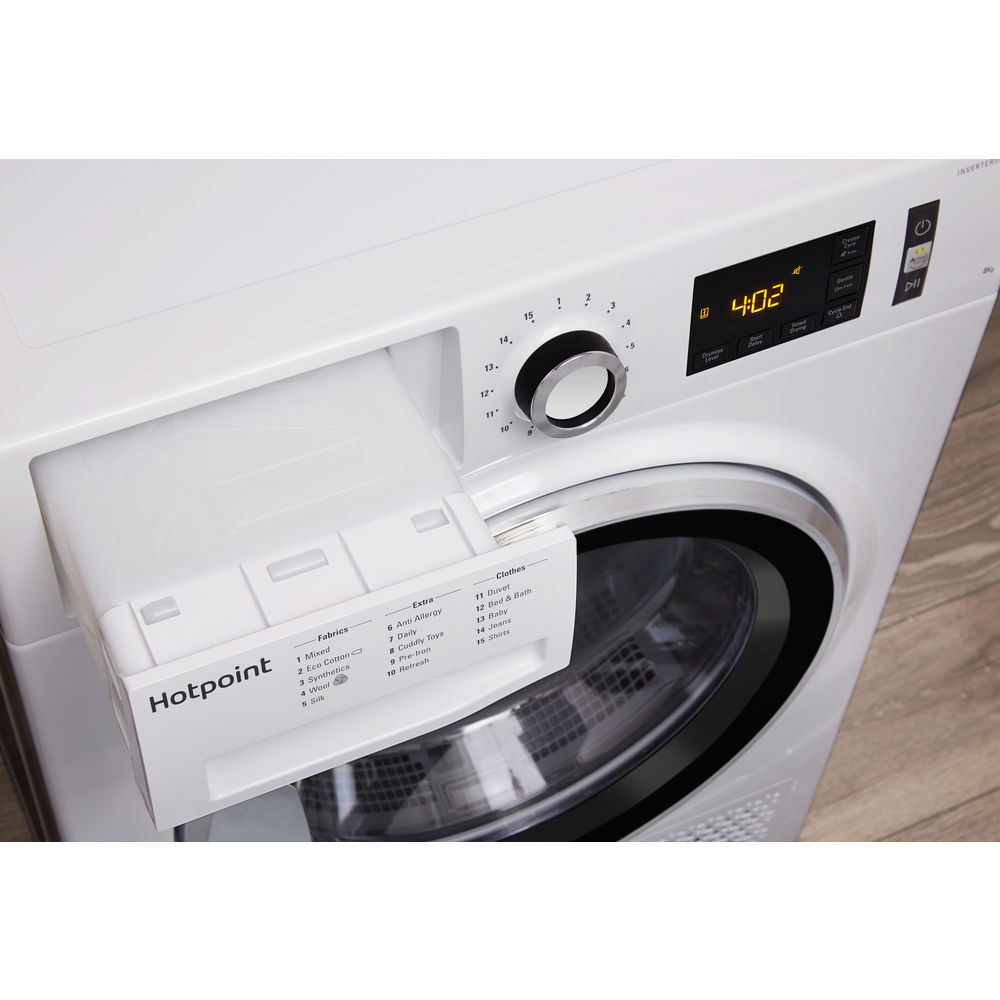 Extra Detailing
This dryer also includes 15 strong programme selections with an 8kg capacity, a heat pump with A+++ energy rating which will help the environment and save you money. The Active Care Heat Pump allows you to save over 40% compared to a B rating machine. With more focus on the environment than ever our household cleaning and laundry are included, making this product stand out in the market.
The Activecares antistress movements ensure that as the load dries the Anti Stress Movements help the clothes cling to the side of the drum which will minimise chafing and will better protect clothing. It also includes temperature control which closely monitors the temperature to take better care of the clothes. This modern and stylish machine would compliment any laundry space perfectly and suit your families needs.
For passionate foodies, Hotpoint is the perfect brand, coupling outstanding build quality and clever functions, however you still require great customer service and delivery options in Timperley. At Village Domestics Supplies you can get the Hotpoint NT M11 82XB UK Dryer with great service and a guaranteed excellent price, click here for more information.