This Hotpoint freestanding washing machine is extremely well known for its stain-busting abilities whilst still protecting and caring for your clothes. The washing machine has an incredible energy rating of A+++, a capacity of 9kg and a 1400rpm spin speed as well as 15 programs which can be used to simplify your home life. Hotpoint innovative technology takes care of your clothes by removing over 100 stains and marks at just 20 degrees Celcius, which means that you can wear your favourite pieces of clothing over and over again without stress.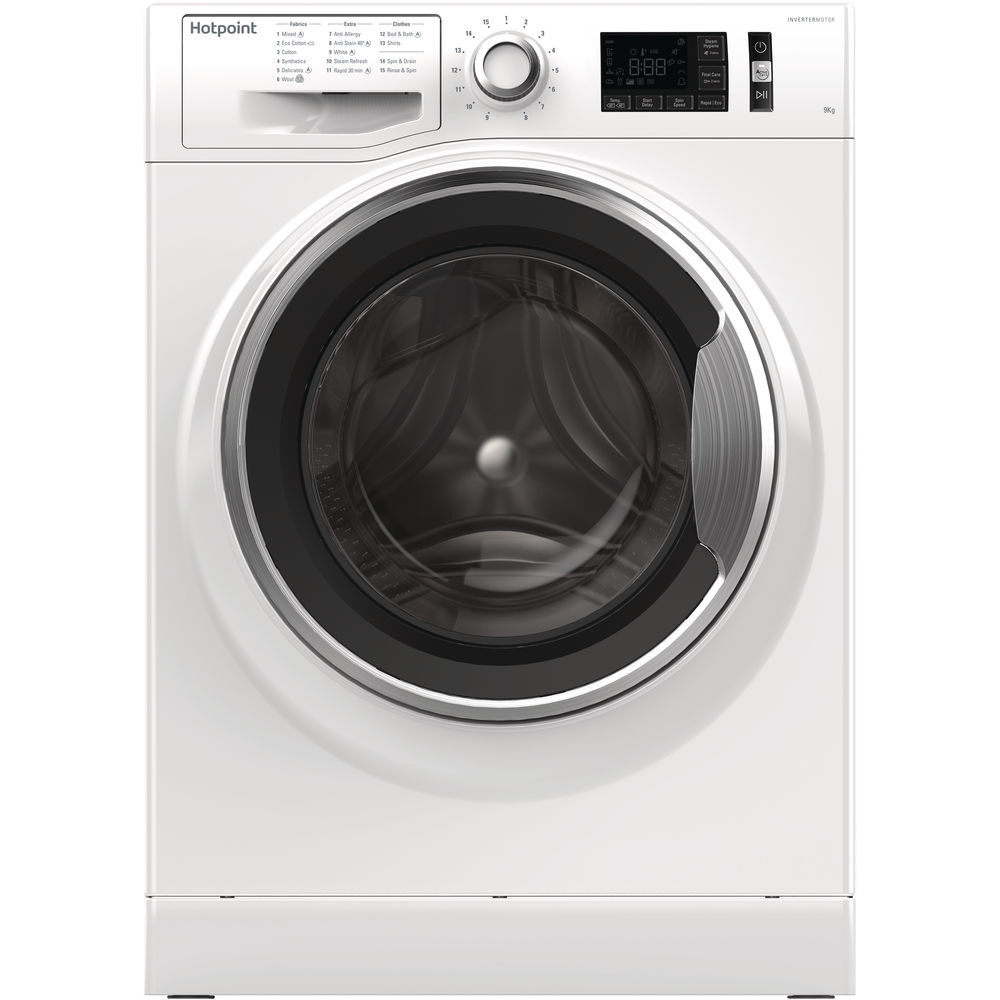 A Few of The Programmes
Eco wash cycle
Synthetics cycle
Spin and drain cycle
Quick Wash cycle
Delicates cycle
Woolens cycle
Cotton cycle
Shirts cycle
Sensitive cycle
Freshen up cycle
Anti Allergy
Stand Out Features
Active Care: Active Care takes care of your washing loads by removing more than 100 stains at only 20 degrees Celcius. All you have to do is choose one of the 6 Active washing cycles and then press the dedicated button to start up your Active Care.
The active mousse is pre-mixed water & detergent which increased the cleaning power by up to 60% and will allow you to wash at only 20 degrees Celcius. The drum is capable of up to 10 different movements that act as the stain remover during the wash. The Active load has a sensor which is able to detect the size of the load and then add the appropriate amount of water and washing time needed for the cycle.
Hotpoint have conducted tests on all of this technology combined and found that the stains they could remove were; Pizza, Coffee, Milk, Ink, Bronzer and Mud. All of which were removed.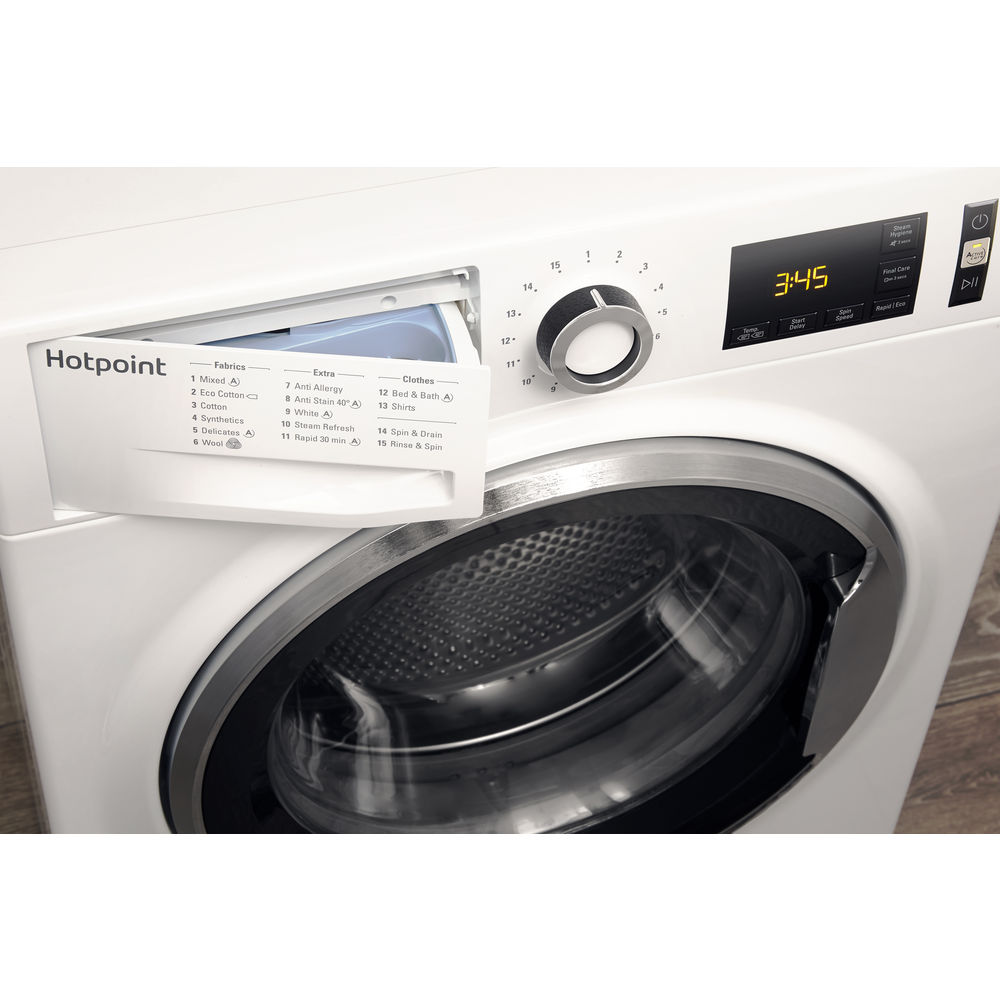 Energy Saving:
This washing machine offers a Rapid option which allows you to reduce the cycle time. The rapid option can guarantee perfect washing performance and can also reduce washing time by up to 50%. The % will vary according to the size and the program selected.
Stop & Add: Have you ever started a wash and realise you forgot to put something in the machines? With Stop & Add technology, you are able to add any forgotten laundry during the first few minutes of the cycle. This will also not affect any of the washing performance, whilst the Stop & Add light is on the display panel you can add pieces of clothing to the wash to your convenience.
Steam Cycle: The steam hygiene cycle injects steam directly into the drum at the end of the washing cycle, which will remove up to 99.9% of the most common bacteria and will allow your clothes to be fresher.
That Added Extra
This washing machine has a 9kg load capacity which is enough for 45 t-shirts and also includes a rapid 30-minute wash for all of those small, lightly stained items that you need clean in a hurry and also have up to 24 hour delay timer so you can run the washer whenever is convient to your and your schedule. The machine includes a brushless inverter motor which runs quieter and more efficiently than conventional washing machines. The machines A +++ energy rating which will save you money on your bills.
Jamie Oliver
"I'm so excited to be working with Hotpoint and show how their incredible equipment can make your life easier in the kitchen, so you can cook up a storm for your nearest and dearest, every day of the week." - Jamie Oliver
Hotpoint alongside Jamie Oliver have joined forces to present a collection of easy to use appliances which will encourage you and your family to get creative in the kitchen. The pair want you to love and be able to rely on the appliances you use and because of this has created a range of ovens, hobs, fridge freezers for you to eat and live well.
For passionate foodies, Hotpoint is the perfect brand, coupling outstanding build quality and clever functions, however you still require great customer service and delivery options in Timperley. At Village Domestics Supplies you can get the NM11946WCA UK Washer with great service and a guaranteed excellent price, click here for more information.